Those of us that were lucky enough to have grown up in or near a city with a major professional hockey team might not realize just how spoiled we were. Having the greatest hockey players in the world in your own backyard is pretty great.
However, thanks to a large number of minor-professional teams spread out across the country, even the most marginal of fans has a chance to get that hockey fix. Even though its not the highest level of hockey, the game is still being played and the fans are engaged.
After growing up in Chicago, with not only the Blackhawks, but the Chicago Wolves (IHL, AHL) and for a very brief period of my youth, the University of Illinois at Chicago (NCAA DI), I was lucky to have had so many options of high-level hockey.
After my recent move to Muscatine, Iowa, which is 20 minutes south of Davenport (one of the "Quad Cities"), my options are limited, but luckily, I have options.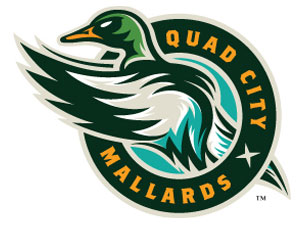 The Quad City Mallards, of the Central Hockey League (maybe just a notch below the ECHL), has existed in a variety of leagues and even switched names for a short bit. In its current form, the Mallards are near the top of their division, and people are starting to notice.
Hockey doesn't have the strongest hold over the Quad City area, but there is a tradition with the Mallards, and people know that its there. The market is not saturated with many other sporting opportunities, so hockey is a viable entertainment option for many in the area.
I attended Saturday night's contest between the Mallards and perennial CHL power Coloarado Eagles. It was jersey giveaway night at the Mallards home arena, the i wireless Center, located in Moline, Ill., with the first 1,000 fans in the door getting a white Mallards replica sweater.
The line for tickets was out the door when I arrived. After the last several years working in hockey, it had been a while since I had been a paying customer. I forgot how fun it could be. Seeing a live hockey game and not having to work at it? Sounds swell. Well going to the game sounded swell to a lot of other people as the Mallards had their second highest attendance total of the season, with 4,216 filing through the turnstiles.
Saturday night had everything you come to expect from a minor league game: 80s hair-bands, a unique fan base, tons of promotions between whistles and, of course, beer. Another thing it had? TONS of families. I'm sure the chance to get a free hockey jersey helped drive ticket sales, but minor league hockey is so affordable, even in this economy, that its not too hard to take a family of four or more to the game without breaking the bank.
The family-friendly factor of minor league hockey may be its most important component. Giving kids an outlet to see hockey at a young age might make them long-term fans. Perhaps some of those kids even decide to become players. Whether or not they become fans or players, without this hockey team here, the chances of either happening plummet.
Minor league hockey in smaller cities and towns gives young sports fans people to look up to. Even though, minor league players don't always get respect from your everyday hockey fans, the local kids idolize these guys. I remember as a kid not caring if a guy played in the NHL or not. All I wanted was Player X from the Chicago Wolves to sign my jersey.
Additionally, minor league teams tend to get their players engaged in the community in a way that is near impossible for NHL clubs. The Mallards have a full-time community relations director who has the players and mascot out on a regular basis, engaging with Quad City residents, young and old.
Even though these teams don't often lead to business success, their existence is of paramount importance to growth of the game. Having hockey teams dotting the map and giving people of all ages a chance to experience the game live is great for the sport.
It is not uncommon to see tons of different NHL jerseys throughout the arenas. Why is that? It's because the minor league teams are turning their patrons into HOCKEY fans, not just fans of one particular team. I've talked about that in the past on this blog.
Hockey fans, as opposed to fans of just one team, are more prone to spend their money on hockey-related items, whether it's tickets, merchandise, NHL Center Ice, or even hockey skates and other equipment. They also consume more hockey media, which gives a boost to TV ratings, magazine subscriptions and page views. The game's influence in smaller markets leads to bigger gains for hockey as a whole.
The crowd at the i wireless Center was loud and excited. Even though the home fans went home slightly disappointed with a 2-1 loss, I'm sure there are going to be some repeat customers after what they witnessed.
The enthusiasm for what was happening at the arena, whether it was a big hit, a fight, a goal or just something fun on the video board, was just a blast to watch. If the team did not exist, most of the 4,216 patrons at Saturday night's contest perhaps never make it to a game and are missed as potential hockey fans.
Minor league teams are often known for desperate attempts at raising attendance, but to me whatever gets people into a hockey game is great for the sport. Anytime a new person sees the game live, it increases the chances of that person will become a hockey fan. In most cases, minor league hockey teams across the country are great ambassadors for the game. No matter what happens, they'll always have a special place in my hockey-loving heart for that.
———
In case you missed it on Twitter, I had a bit of a running commentary on the sights I saw at the Quad City Mallards game. Here are a few of the highlights:
Jerseys I was surprised to see: University of Minnesota Duluth, University of Michigan knock, Tony Amonte Blackhawks jersey which gave me flashbacks to my late childhood, and finally an old-school San Jose Sharks… really? OK.
David Brown, a former standout at the University of Notre Dame and Penguins draft pick, was between the pipes for the Mallards and has been all season. He was very solid in the 2-1 loss. Players like Brown, who maybe just missed an opportunity with a bigger pro team, give fans a look at players that can still compete at a high level.
The cowbell is a prominent noise maker, as it is in most Midwestern towns. Christopher Walken, as the venerable Bruce Dickinson (who puts his pants on one leg at a time, just like the rest of us), made not one, but two requests for more cowbell on the video board on separate occasions.
The Mallards have their own version of Vancouver's "Green Men." There are three young men, one in a green suit (naturally), one in the American flag body suit, and my personal favorite, Spider-Man. Mallards director of business development, Justin Yorke, told me that Spider-Man has become a staple and is also a fan favorite, now. The Mallards have a super-hero night coming up, calling on people to dress up as their favorite super hero. Inspired by Spider-Man, taunter of penalty box patrons? Maybe.
It wouldn't be a Midwestern hockey game without John Deere getting a plug as a commercial mowing tractor was driven around the ice for the home crowd to survey during the first intermission. Gotta love it.
My favorite thing about the Mallards? Number 77 is retired for Kerry Toporowski, a defenseman who scored seven goals in his Quad City career. In 236 games, "Topper" as he is affectionately known, compiled 1,338 PIM. This guy was a minor league owner's dream.
The Mallards were rocking their black jerseys on Saturday night. I love them. Maybe one of my favorite jerseys in all of minor league hockey. Seriously.
In closing, I had a great time at the game. Special thanks to Justin Yorke, Mallards business development director for stopping by our seats and filling me in on some of the great stuff the Mallards are doing this year. The future is bright for this franchise.
Make sure to check the Quad City Mallards on its website, Twitter and Facebook.