This post has been altered to reflect additions made to camp on Dec. 10
The U.S. National Junior Team Preliminary roster includes 17 forwards. That means four will be sent home before the puck drops on the tournament Dec. 26.
It should be noted that there is the possibility of adding players to this roster on Monday as there are some injury concerns still lingering. UPDATE: Two additions have been made.
This group is not terribly star-studded unlike some of the other forward crops you'll see in Malmo at the World Junior Championship. That means the U.S. has to be careful in finding the right balance.
Head coach Don Lucia said today that he is looking for versatility and flexibility within the lineup. A premium is being put on players that can play multiple positions so they can make changes on the fly and that shows in the forward selections.
The U.S. has two returnees from last year's gold-medal team. Barber played a top-six role last time around skating on a line with Sean Kuraly and Alex Galchenyuk. Ryan Hartman returns this year after being a member of the team's self-proclaimed "Grind Line." Hartman skated on the wing with Cole Bardreau and Blake Pietila on team USA's primary shut-down line. Expect him to play a more prominent role this year.
To be frank, this group is going to get challenged, regardless of who gets cut. Team GM Jim Johansson didn't pull any punches when he said the team may lack more of a dynamic element, even though they're comfortable with this group.
Coming up after the jump, a look at each of Team USA's 15 forwards on the preliminary roster.
Riley Barber (WSH) — RW — Miami University — One of the returning forwards from last year's gold-medal squad, Barber put up six points in seven games at the last WJC. He is now one of the more dynamic offensive players in all of college hockey. After a stellar rookie campaign at Miami, Barber is tied for the RedHawks' lead for goals (10) and points (24). He appears to have added more of a power element to his game this year and is good at driving the net and creating with his strong skating. He is a solid finisher and should be a top-line wing for Don Lucia's group.
J.T. Compher (BUF) — C — University of Michigan — Compher can do a little bit of everything and do it pretty well. With good physical strength, Compher can be very difficult to play against. He has a hard-nosed mentality, which makes him physical and solid defensively. Compher is also has some solid skill, highlighted by a terrific shot which can be deadly if he has the space. His versatility is his biggest weapon. He can play on the PK, power play and in just about any situation. It is also because of that versatility that I'm not sure where exactly he'll slot in. You could probably put him in the middle on any of the four lines and be OK. Compher is leading one of the nation's best teams in scoring as a true freshman with 14 points for the Wolverines.
Andrew Copp (WPG) — C — University of Michigan — One of my favorite prospects of the last few years, Copp has continued to flourish in his development. He's one of the captains for Michigan and is second behind Compher with 13 points. Moreover, if you asked anyone if he'd be a legitimate World Junior candidate three years ago, they might have looked at you cross-eyed. A solid midget player for Compuware's program, Copp was also a star high school quarterback at Ann Arbor Skyline H.S. He was even drawing Division I interest for football, but hockey was always his first love. Invited to the NTDP as a local fill-in player for either the U18 or U17 team, Copp was there when someone was injured. Then a funny thing happened. He just kept getting better. Now with hockey as his sole focus, Copp has become a tremendous two-way player at the college level and earned a draft selection from Winnipeg last year. Like Compher, you could slot him just about anywhere and be OK. He is strong, has some sneaky skill and isn't afraid to mix things up physically. I could see him slotting in safely on the third or fourth line at center. He may have a positional battle with Danny O'Regan and Quentin Shore, however.
Thomas Di Pauli (WSH) — LW — University of Notre Dame — One of the better defensive forwards invited to camp, Di Pauli could be utilized in a shutdown role. He's been injured off and on this year, having only appeared in six of Notre Dame's 16 games. I think that goes to show you just how much faith the USA Hockey brass has in his ability to play good defensive hockey up front. Di Pauli is physical, but also quite smart positionally. It's not as if he is inept offensively, either. He does have some skill and uses his body well to protect the puck, which makes him tougher to play against in the offensive zone. The fact that Di Pauli hasn't played as much this year is a bit of a concern. Dealing with the World Junior pace is no small task. That will have to sort itself out in camp, but if Di Pauli is ready, he brings an element the U.S. will need.
Jack Eichel (2015) — C — U.S. National Under-18 Team — The only underager invited to Team USA's camp, Eichel is a special player. The late 1996-birth year will not be eligible for the NHL Draft until 2015, but he is already drawing buzz as a potential top-five pick. At 6-1, 190, he is physically ready, has strong skating and some special skill. The most frequent descriptor for Eichel is "dynamic."  At the NTDP, he is averaging 1.84 points per game with 35 in 19 contests and is in the midst of a 10-game point streak in which he had fewer than two points only once. That is coming against a smattering of NCAA, USHL and international competition. This kind of production is not often seen in the U18 year because the competition is so stiff. There's a good chance Eichel could play his way into a top-six center role and be a featured producer for Team USA. He was on the U.S. Natioanl Under-18 Team last year and really struggled, so that's where there may be some trepidation in bringing him, but the way he has played this year can't be ignored. Barring a disastrous camp performance, he's in and gets a good chance to produce.
Adam Erne (TBL) — LW — Quebec Remparts — With 32 points in 26 games, Erne is showing another year of progress in his third season in the QMJHL. A second-round pick of the Lightning, Erne is a good skater with some tremendous offensive sense including good playmaking abilities and a high-end shot. He can beat defenders with speed and power, but also has some really good touch on the puck. Erne had a slow start to the summer camp, but really picked it up towards the end showing he could play at the pace they'll need him to in Malmo. I could see him as one of the top two left wingers for Team USA.
Hudson Fasching (LAK) — RW — University of Minnesota — This has been a really revealing year for Fasching, in terms of his development. It all started back in August when Fasching had a really terrific camp in Lake Placid. It has continued throughout the season as he has been part of Minnesota's top line all year as a true freshman. That's a huge, huge accomplishment, especially when it's for the nation's No. 1 team. He has 14 points, good for third on the team and has shown his power game is really developing. Fasching is probably best around the net with the puck on his stick. He's a hard guy to get it away from because of his 6-2, 200-pound frame. Additionally, his hand skills look to be improving as he has a little more control with the puck and has development some strong distribution skills. Fasching probably could slot in safely on Team USA's third line and provide some energy and scoring depth. I don't see him as a big producer this year, but he'll help. How far he has come over the last year is pretty remarkable. LA was lucky he fell to 118th last draft.
Ryan Fitzgerald (BOS) — LW — Boston College — Though he's played a lot of center over his career, Fitzgerald has played primarily on the left side at BC and the results have been strong so far. With 14 points in 14 games for the Eagles, Fitzgerald is making a rather smooth transition to college hockey. He's a bit on the smaller side at 5-9, 166, but he has pretty good wheels and some puck smarts as well. I think he's still a bubble candidate, but he has someone on the U.S. bench that is very familiar with his strengths and weaknesses in assistant coach Greg Brown (also an assistant at BC). A point-per-game as a freshman is nothing to sneeze at. I don't know if he has the goods to beat out the likes of Stefan Matteau, Adam Erne, Tyler Motte and Henrik Samuelsson for one of those wing spots, but a good camp could change things there. The U.S. has been a little more creative with their 13th forward spot in recent years, so there's potential for Fitzgerald in there, too.
Ryan Hartman (CHI) — C/RW — Plymouth Whalers — One of four first-round picks in camp, Hartman is also a returnee from last year's team. He had three points in seven games, including a pair of goals. With some outstanding versatility, Hartman is another one of those guys you can slot just about anywhere in the lineup and have some success. He has been hurt the last month, however, and hasn't played since Nov. 9. According to Johannson, though, Hartman is expected to be ready for the WJC. He does have 21 points in 20 games so far at center, but I believe he'd primarily play wing for Team USA. Hartman plays a physical style, but also has some underrated skill as he is good at getting to the net and creating offense. His tenacity will be necessary in games against teams like Canada and the Czech Republic in group play.
Vince Hinostroza (CHI) — C — Notre Dame — Hinostroza looked like he was locking himself into a spot in this camp with each passing week in his freshman campaign at Notre Dame. The 19-year-old center went down with an injury, however, playing against Don Lucia's Minnesota Golden Gophers. Hinostroza was sidelined for six games, but returned this weekend for a home series against UMass and had an assist in each game. He looked as if he really hadn't missed any time this season. As primarily a center at Notre Dame, Hinostroza could be competing for one of the slots in the middle, but he'd also be capable on the wing. He plays at a high speed every game it seems and is good in both ends of the ice despite a relative lack of size. His on-ice work ethic has always been a standout tool and he's added more skill elements to his game over the years. He has 14 points in 12 games this season and has played on a line with Don Lucia's son Mario at times this year. Hinostroza picked a good time to get back from his injury and even better to show that he was ready right away. I thought Hinostroza looked fairly solid in the summer camp in Lake Placid, but he was sent home as a mid-camp cut. He could be a very intriguing player in next week's training camp, however.
Nic Kerdiles (ANA) — C/LW — University of Wisconsin — Perhaps Kerdiles would have been on last year's team had he not had to miss the first 10 games of Wisconsin's season. There are no issues this time and Kerdiles should be a lock to make the team. He is playing center for Wisconsin this season, but I see him as a point-producing winger for Team USA this year. He has 10 points in 10 games and was Wisconsin's best player when he returned to action last season. He should play on one of the top two lines and be looked to for considerable production. Kerdiles is a strong skater with really good finish around the net. He's not a make-you-miss kind of guy with his puck skills, but he is strong on the puck and has good vision. Kerdiles also has some good defensive capabilities if needed.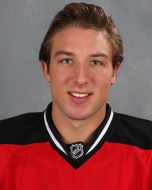 Stefan Matteau (NJD) — LW — Albany Devils — One of two players on Team USA's roster with actual NHL experience, Matteau may come into camp with a little bit of unfinished business in mind. He ended up as the very last forward cut for the U.S. last year and has now had to watch two of his would-be teams win gold without him. Matteau was also erroneously ruled ineligible for the 2012 World U18 Championship, a decision the IIHF later reversed, albeit too late. Matteau did shake off the sting of both unfortunate misses by getting drafted in the first round in 2012 and making his NHL debut in 2013. Now he comes in with professional experience and possibly a chip on his shoulder. Matteau is a strong power-forward with a mean streak. He has cut down on penalties in the AHL, which has been a real problem for him in the past. At 6-1, 215, he can be a hard guy to stop and can deliver some hard hits. After a slow start to the AHL season, Matteau has been on a tear of late with eight points in his last five games. That's getting hot at the right time. Could see Matteau on any one of Team USA's top three lines at this point.
Tyler Motte (CHI) — LW — University of Michigan — Undersized, but incredibly crafty, Motte is an intriguing option for Team USA. He may be in direct competition with Ryan Fitzgerald and a few others, but there could be a spot for him as Team USA's 13th forward. With seven points including five goals, Motte hasn't been overwhelming offensively, but he does a lot of little things well. He can be used in defensive roles if needed, despite the fact he's 5-10, 180. Motte is just a smart player and that helps his chances for potentially sliding into the 13th forward slot. I'd say like Fitzgerald he'd be on the bubble, but a good camp gives him a really good shot at making the final roster.
Danny O'Regan (SJS) — C — Boston University — The Terriers have struggled this year and O'Regan got off to a slow start himself, but he offers a lot of skill to Team USA at the center position. BU is unbeaten in its last four and O'Regan has points in all four games, which I don't think is a coincidence. He's a solid player who can find teammates and is a pretty generous linemate. There's some shiftiness in his game and some creativity as well. I think coming into the year he was a lock, but with five natural centers in camp, he's got more of a challenge. Future BU teammate Jack Eichel could end up his main competition for a final roster spot.
Henrik Samuelsson (PHX) — C/W — Edmonton Oil Kings — I had wondered whether or not Samuelsson would make this camp, and actually leaned 'not' in my projection. He had a pretty poor summer camp and did the year before as well. However, there's no denying that Samuelsson brings an element that few other guys on this roster do. He has good size and a bit of a mean streak. When he channels it properly, he is an absolute bear to play against. Samuelsson also has really good hands for a big guy, which means he can generate some points with 33 in 25 WHL games this year. I don't think you can rely on him for big time production, but he could be a good source of scoring depth. The big concern with Samuelsson is being able to play at a high enough pace on the big ice. He has plenty of experience having briefly played professionally in Sweden, which is valuable. Primarily a center, I think he'd be a better wing for Team USA. Samuelsson has to prove that his camp performances were an anomaly to make the final roster, but he is certainly in the mix.
Quentin Shore (OTT) — C — University of Denver — One of the top performers from Team USA's camp in Lake Placid this summer, Shore probably made his biggest statement for inclusion on the preliminary roster then. However, he's remained a productive player at the University of Denver with 10 points in 13 games this season. He is an intriguing option at center for Team USA. I could see a good case for slotting him in as the third line center and potentially edging out Danny O'Regan or possibly Jack Eichel. There's really nothing flashy about Shore. He is an effective two-way player as he has shown both in Lake Placid and throughout this season. Shore will still need to have a good camp to ensure himself a spot on the final roster, but he obviously made a really good first impression way back in August and that counts even now.
Zach Stepan (NSH) — LW/C — Minnesota State — Stepan had a solid, if unspectacular summer camp. The same can be said for his freshman campaign at Minnesota State as well. He has seven points in 12 games so far this season, which is below what was expected after Stepan put up 78 points in the USHL last season. The U.S. staff was likely waiting to see if his production picked up, though he has some two-way capabilities. If Stepan were to make the team, I'd think it would have to be as a wing, but he has played center more of late at MSU. He's another one of those versatile players the U.S. tried to build a foundation around in this camp in particular. As a late add and a guy that has been tough to figure out this season, Stepan seems like he might be a long-shot in camp, but he's done enough to deserve a chance to prove himself.
Coming soon, a look at Team USA's defensemen and goaltenders.