The Northeast is going to be a pretty exciting region. Why wouldn't it be? With each of the last two Division I national champions as the top two seeds playing in Worcester, Mass., there are sure to be some fireworks in this bracket.
Boston College, the 2010 national champs and inarguably the best team in college hockey right now, is the tournament's top seed and as such will face No. 16 Air Force. Defending national champion Minnesota Duluth will meet Hockey East runner up Maine.
Here's the Northeast schedule (All times EDT):
Saturday, March 24
No. 1 Boston College vs. No. 4 Air Force — 4 p.m. (TV: ESPNU/ESPN3.com –LIVE)
No. 2 Minnesota Duluth vs. No. 3 Maine — 7:30 p.m. (TV: ESPN3.com/ESPNU*)
Sunday, March 25
Regional Final (TV: ESPNU/ESPN3.com–LIVE)
Broadcasters: Joe Beninati (pxp) and Billy Jaffe (color)
* – UMD-Maine will air on ESPNU on tape delay at 11:30 p.m. Saturday, but will still be shown live on ESPN3.com
Coming up after the jump, a look at each team, their NHL prospects to watch, chances of making it to the Frozen Four in Tampa, and so much more.
Head Coach: Jerry York
Captain: Tommy Cross — Sr. — Simsbury, Conn.
Record: 29-10-1
About BC: Riding a 15-game winning streak into the national tournament is the definition of coming in hot. The Eagles captured the Hockey East regular-season and playoff titles during the streak and have looked like the most dangerous team in the country.
The Eagles have outscored opponents 61-19 during the streak, averaging 4.07 goals-per-game, while allowing just 1.27.
This is a team that probably should have been a wire-to-wire No. 1 team with its litany of NHL prospects and blue-chip recruits, but mid-season inconsistency may have shrouded the true ability of this team. From Nov. 5 to January 27, the Eagles failed to string more than two wins together during that 16-game stretch. January 27 was the last time BC lost.
The big concern right now is that Boston College has to find a way to squeeze out four more wins to earn the national title. There are no off nights anymore. In single-elimination, the margin for error is incredibly slim.
About the Match-Up: So is BC due for a loss? They certainly don't look like it right now and one would be hard pressed to believe the due date is March 24 against Air Force.
That's not to say that BC is going to roll right past Air Force. The Falcons have a pretty good hockey club and will bring a very gritty style to Worcester.
BC is more skilled, bigger, faster and has faced off against some of the best programs in the country regularly. One simply cannot presume that the Eagles will advance to the second round, but this game is the least likely to include the upset.
Should Jerry York's club get to the second round, it's going to have its hands full with either Maine or Minnesota Duluth, which both could potentially meet the challenge of keeping up with the speedy BC.
NHL Draft Picks: 9 — Brian Dumoulin (CAR), Tommy Cross (BOS), Patrick Wey (WSH), Isaac MacLeod (SJS), Kevin Hayes* (CHI), Johnny Gaudreau (CGY), Chris Kreider* (NYR), Paul Carey (COL), Bill Arnold (CGY)
* – First-rounder
Players to Watch: 
Chris Kreider is BC's leading scorer and a 2009 first-round selection of the New York Rangers. Kreider has posted 41 points, far surpassing his previous career high of 24. The junior forward has elite speed and will liekly be in the NHL next season after showing improved scoring touch with 20 goals so far on the year.
Brian Dumoulin is BC's lone Hobey Baker finalist and is arguably the best defenseman in the national tournament. With great size, combined with a fluidity and smoothness to his game, Dumoulin is likely NHL-bound next year. He might need a little seasoning in the AHL, but Carolina's 2009 second-rounder is a dandy. Dumoulin's offensive decline this season (26 points this year after 33 last) shouldn't be alarming, as he's provided reliable defense all season long. He can do the job at both ends and should have a huge impact on BC's success.
Johnny Gaudreau is BC's freshman sensation that almost wasn't. Coming out of the USHL last season, Gaudreau was all set to attend Northeastern. That was until head coach Greg Cronin left the Huskies to become an assistant coach with the Toronto Maple Leafs. Gaurdreau was released from his commitment and promptly signed with BC. He's second for the Eagles with 39 points and tied for the national lead among freshman players. He's averaged nearly a point-per-game which is incredible for a freshman, particularly one of Gaudreau's size (5-6, 141). He has among the best hands of any of the prospects playing. He's shifty and smart, a deadly combo. Calgary has to be happy with this 2011 fourth-round pick that was actually considered a reach at the time.
Senior Barry Almeida is BC's leading goal scorer with 22. The undrafted forward has broken out in his final collegiate season, outpacing his previous personal-best by 17 points.
Kevin Hayes, a sophomore forward, was a first-round choice by Chicago in 2010 and has upped his offensive numbers from a lukewarm freshman campaign.
Sophomore forward Billy Arnold, a Calgary 4th rounder in 2010, has a penchant for big goals. He had 16 tallies this year, but the biggest one had to be the double-overtime game-winner against BU at the Beanpot. 
This list could really keep going, but in the interest of your time… it won't.
Tampa Chances: 55% — BC is hands down the favorite to win the whole thing, and therefore gets the best chances to get out of the region. It won't be a walk in the park for the Eagles, but this is a team built for championships.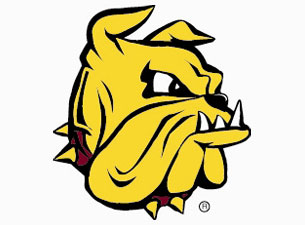 No. 2 Minnesota Duluth
Head Coach: Scott Sandelin
Captain: Jack Connolly — Sr. — Duluth, Minn.
Record: 24-9-6
About UMD: At one point during the season, it looked like the Bulldogs couldn't lose. As pretty much every team learned this year, however, there are going to be good days and bad days. Luckily for UMD, there were way more good days than bad as the 24-9-6 record would indicate.
A 17-game unbeaten streak from October 21 to January 13 had UMD looking like it was poised for another title run. Then there was a little bit of adversity, but the Bulldogs still managed to win 12 of their last 18 games.
Duluth is a veteran-laden team, with a group of guys that knows what it takes to get to the ultimate goal. This is a battle-tested hockey team. Despite losing out on a chance to play for the WCHA title, the Bulldogs have had a strong season coming off of the national title.
They play fast. They play hard. They score a whole bunch of goals. The Bulldogs tied with in-state rival Minnesota for the national lead with 142 goals scored so far this season. It's also been a pretty balanced attack from UMD as well, with six players with 30 or more points.
About the Match-Up: UMD will meet a very talented Maine squad in the first round and this is sure to be one of the best games of the entire tournament. Even if Maine is without the nation's leading scorer Spencer Abbott (more on this in a bit), the Black Bears should provide a pretty significant challenge to the Bulldogs.
Maine has four players with 15 goals or more this season, so this is a pair of high-powered offensive hockey clubs going at it in Worcester. It could end up coming down to goaltending as well. Neither Dan Sullivan for Maine nor UMD's Kenny Reiter are among the top netminders in college hockey, but both have had strong seasons. It may simply come down to which one of these two guys has the better night with all of the scoring talent on the ice.
NHL Draft Picks: 6 — Scott Kishel (MTL), Drew Olson (CLB), Dan DeLisle (CHI), Joe Basaraba (FLA), Max Tady (STL), Caleb Herbert (WSH)
Key Players
Senior Jack Connolly is a shoe-in to be part of the Hobey Hat Trick (yes, that is the corny name they use). The undrafted center has been one of the most consistent producers in college hockey over his four-year career and was a huge part of UMD's championship success last season. Connolly has 58 points, one off from his career high, and a personal-best 19 goals this season. He is the ultimate table setter, with fantastic vision and hockey sense. When he's locked in, there are few players in the college game better than Jack Connolly.
Senior Travis Oleksuk has continually grown over the last four years at UMD and really broke out during his senior campaign, eclipsing 50 points for the first time in his college career. Oleksuk is second on the team with 21 goals and 30 assists. Undrafted out of the USHL, it's looking like Oleksuk could find a few offers from NHL teams at the end of this season.
One player that is sure to have a lot of contract offers upon the conclusion of this season is sophomore J.T. Brown. Leading the Bulldogs with 23 goals, the speedy winger is on a lot of team's radars right now.  It's not his production that will make scouts swoon, but the way he plays the game. Brown is the type of guy who plays hockey at 100 miles-per-hour. He can fly down the ice, deliver a good body check, dig the puck out of the corners and yes, he can finish. On his best day, Brown is one of the more electrifying players in college hockey.
Perhaps the Bulldogs didn't expect such a productive season out of freshman Caleb Herbert, but they got one. Herbert is fourth on the team with 32 points, showing his offensive game from the USHL certainly translated to the next level. Herbert was a fifth-round draft choice of the Washington Capitals in 2010.
Tampa Chances: 28% — Tournament experience could serve UMD well, especially in its first-round tilt with Maine. Assuming both UMD and BC advance, that's where it gets mighty interesting. UMD's chances would be much higher if the No. 1 team in the country wasn't on the other side. It's hard to pick against BC right now.
No. 3 Maine
Head Coach: Tim Whitehead
Captains: Brian Flynn — Sr. — Lynnfield, Mass., and Will O'Neill — Sr. — Salem, Mass.
Record: 23-13-3
About Maine: It always seems like Maine fans are calling for Tim Whitehead's, um… head. The head coach had the tough duty of replacing the late Shawn Walsh, but in 10 years has led the Black Bears to a 216-138-43 record. Every season, Maine always seems to find a way to be in the hunt, and once again finds itself in the national tournament. Still, Black Bear fans are hungry for a national title, as it hasn't won since 1999.
This may not be the Maine of the 1990s, but this is one of the more exciting squads the school has had over the last few years.
The offensive firepower of Spencer Abbott, Joey Diamond, Brian Flynn, Matt Mangene and Will O'Neill is would be tough for a lot of teams to compete with.
In the regular season, Maine did something you don't often see in any year, in any era of a program. The Black Bears swept both Boston College and Boston University on back-to-back weekends. Perhaps that was the indiciation that this was not a team to be taken lightly.
In the Hockey East playoffs, Maine knocked off BU in the semifinal at the TD Garden in Boston before falling to the red-hot BC Eagles, 4-1 in the title bout.
The big question mark right now for Maine is the availability of Spencer Abbott, he of the nation-leading 61 points. Abbott was injured in the HEA semifinal. The injury has been referred to in some reports as a head injury, which could mean anything, but usually means concussion.
The assured Hobey Hat Trick finalist has 14 more points than his next closest teammate. According to the Bangor Daily News, the Black Bears are preparing as if Abbott can't go. Losing that kind of production from the lineup is near impossible to replace, but the Black Bears have seven players with 20 points or more, so they have some balance at least.
It would be a tough road with Abbott, but significantly tougher without. It's wait and see time for Maine fans.
About the Match-Up: What a tough draw for Maine after its solid second half this season. Having to face off against the defending national champion in the first round is a tall order.
Maine will have a few subtle advantages. With the regional being played in Massachusetts, the crowd should be decidedly blue-clad. That said, most regionals don't have the types of crowds we're used to seeing on the college campuses across the country, so if its an advantage, it'll be a slight one.
A lot of what happens could depend on if Abbott plays or not. The hope is that he does, as the game would feature two of the country's best players in Abbott and UMD's Jack Connolly. Obviously, Abbott's health is first and foremost, but it would be nice to see him back in action to see this match-up.
The Black Bears have pretty good team speed, and that balanced scoring attack will certainly help. The D corps for Maine should also give the Black Bears a bit of an advantage, with a veteran-laden blue line. They'll have to be at their best to stop one of the best scoring teams in the country.
This game between UMD and Maine, with or without Abbott is going to be one of the tournament's best, hands down. Too bad the only way you'll be able to see it is on a computer screen… or at 11:30 at night on tape delay.
NHL Draft Picks: 4 — Will O'Neill (WPG), Ryan Hegarty (ANA), Martin Ouellete (CLB), Nick Pryor (ANA)
Key Players
He's been talked about a lot already, but Spencer Abbott is a big part of Maine's success this year. If he's unable to play, it significantly alters their offensive attack. Putting up 61 points in a single season is pretty impressive. The smallish undrafted forward has set personal bests in each of the major offensive categories, outpacing his career high in points by 21. UMD probably wouldn't mind if he doesn't play, but for Maine and college hockey fans, it would be a shame if his season ended while sitting in the press box.
Will O'Neill has had a pretty impressive senior campaign. With 31 points including 28 assists from the blue line, the senior captain has been as big a part of Maine's attack as anyone. He has decent size and strength, so he can get the job done in his own end, but he's really strong in getting Maine going in transition and he knows when to jump into a play. He really jumped out of the TV during the Hockey East semis and final.
Brian Flynn is the other senior captain and he will need to be one of the guys that really steps up if Abbott is out. He's had a highly productive college career and should be a big factor if Maine is going to have any success against UMD.
Junior Joey Diamond is having a career year for the Black Bears. Leading the club with 25 goals, he eclipsed his personal best in that category by 14. The diminutive forward has a bit of a mean streak, too, with 117 penalty minutes. He'll have to keep it cool at this time of year as any mistake could be the difference between moving on and your season ending.
Tampa Chances: 15% — Since the Black Bears are preparing as if Abbott is unavailable, I'm doing the same. One player probably shouldn't make the difference, but when that one player is the nation's leading scorer, he does. Maine simply has an uphill battle. If it gets past UMD, it likely has Boston College to face and I just don't see this team winning both of those games.
No. 4 Air Force
Head Coach: Frank Serratore
Captains: Paul Weisgarber – Sr. – Fargo, N.D., and Scott Mathis – Sr. – Crystal Lake, Ill.
Record: 21-10-7  
About AFA: Never make the mistake of completely counting out the Atlantic Hockey entry to the NCAA tournament. It's easy to discard Air Force as the lowest seed in the tournament, but one probably shouldn't call it over just yet.
As we've seen time and time again, expect the unexpected in the national tournament. It would take a minor miracle for Air Force to beat Boston College, but the same could have been said for Holy Cross when it beat Minnesota in overtime in 2006. The same could have been said about RIT when it stunned Denver in 2010 and made it all the way to the Frozen Four.
Here's the thing about this Air Force team. It's actually a pretty good hockey club. Having won both the Atlantic Hockey regular-season and playoff championships, the Falcons have been riding high over the last few weeks.
The Falcons also have one of the great motivators in college hockey in Frank Serratore. He always gets the most out of his AFA teams and gets them to play with confidence.
Air Force also has one of the best players in the country in Hobey Baker finalist Tim Kirby. The senior defenseman was named Atlantic Hockey's player of the year, which is tough to do for a blue liner.
The Falcons don't score a lot of goals, with only three players in double digits in that category, but has gotten good goaltending from its tandem of Stephen Caple and Jason Torf. It will be interesting to see who Serratore goes with in goal. Torf is coming off a 34-save shutout in the AHA championship game, but had some struggles earlier in the playoffs.
Air Force has proven this season it can hang with the big boys, with a win against Colorado College and some one-goal losses to fellow tournament teams North Dakota and Michigan State. However, they haven't seen any team quite like Boston College.
About the Match-Up: Air Force has a really tall order in stifling Boston College's high-powered, high-profile offense. It's a team with nine NHL draft picks, including two first-rounders against a team with none.
Air Force teams can wear their opponents down though. The Falcons are awfully stingy on defense and if they can hold Boston College at bay long enough, they'll have at least a chance.
As Frank Serratore told the Colorado Springs Gazette, "If we go in there, and we play our game, we're going to more than be in the game. …We have more than held our own in this situation."
If the defense can frustrate BC's skill players, Air Force won't have to score many to win, just enough.  In a game between the tournament's best and lowest seeds, the first period is going to be a huge indication of how long it will really be a game. If AFA can get out of it relatively unscathed, they are at least in the game and will have an opportunity, no matter how small that opportunity might be.
NHL Draft Picks: 0
Key Players
This is pretty easy: Tim Kirby. The senior defenseman does it all for Air Force and there's a good reason he's among the ten Hobey Baker finalists. It's not often you see an Air Force Falcon listed among the best players in the nation, but when you see a defenseman put up the numbers Kirby has, it makes all the sense in the world. He is third on Air Force with 12 goals and 28 points. He's buried six power-play goals and three game-winners. Only two defensemen in the country had more goals than Kirby and both are NHL-drafted prospects. Kirby will need to be a factor both offensively and defensively if Air Force is to have a chance.
Kyle DeLaurell is Air Force's leading scorer with 38 points, which includes a team-best 23 assists. Averaging a point-per-game is solid in any league. The junior from California has a good 6-1, 200-pound frame as well. The big guns are going to really need to bring it against the potentially overpowering BC.
John Kruse leads Air Force with 16 goals, including a team-best four game-winners. The junior forward has already eclipsed his career-best point total and like Kirby and De Laurell will be looked to for production.
Tampa Chances: 2% — Ever since I lived in Colorado Springs, I've really grown to admire the Air Force hockey team. Few teams play with as much heart and emotion. That all stems from the head coach. However, it's just too hard to predict the Falcons stealing a win from the nation's best hockey team, much less getting out of the Northeast regional. It's not impossible, but this is about as steep an uphill battle as you'll find. The Falcons have enough bulletin board material to fill an entire room. Here's one more piece.
Coming up tomorrow: Previewing the Midwest Regional.