This has been an incredibly fun and unpredictable season so far in college hockey. There has been no shortage of surprises on the ice, which makes the rest of the year really intriguing.
In the latest edition of College Hockey Roundup, we'll take a look at the surprising standings, Rocco Grimaldi's injury and Northeastern getting a verbal commitment from a an eighth grader.
All that, after the jump:
The college hockey season's surprises have come in bunches. It's been particularly interesting to watch some of the unexpected teams climb the ladder into the national rankings. Here are just a few of the surprises from this season:
Merrimack College — I think it's pretty safe to say no one, and I mean no one, had Merrimack pegged as the last unbeaten in the country. At 8-0-1, the Warriors opened this week as the No. 1 team in the country on the USCHO Men's College Hockey Poll. Merrimack has yet to allow more than two goals in a game this season and a 1-1 tie against Northeastern is the lone blemish on its record. Goaltender Joe Cannata, a Vancouver draftee who has started eight of his team's nine games, has been splendid. His 1.48 goals-against average ranks second in the country and he's also posted a .940 save percentage. The Warriors have yet to hit the toughest part of their schedule, but the momentum from this start has to carry for a bit.
Ohio State — Mark Osiecki is in his second year as head coach at OSU and perhaps he's already helped the program turn a corner. The Buckeyes sit atop the CCHA with a 7-2-1 conference record, (they're 10-3-1 overall) and are coming off its first sweep at Michigan since 1986. The Buckeyes have relied heavily on goaltender Cal Heeter (9-1-1, 1.96 GAA, .928) and a balanced scoring attack led by sophomore Chris Crane (7-8–15) and senior Danny Dries (8-5–13). This is only the beginning for Ohio State.
Ferris State — In this most tumultuous summer for college hockey, there was great concern for what would happen to smaller programs in the CCHA and WCHA. One of those of concern was Ferris State. However, the Bulldogs have merely responded by posting a 10-3-1 record to start the season at sit third in the CCHA standings ahead of both teams that are leaving for the NCHC and two headed to the Big Ten. The Bulldogs boast the nation's top goaltending tandem in C.J. Motte (4-1-1, 1.32, .945), and Taylor Nelson (6-2-0, 1.88, .931). Ferris State's season so far was highlighted by a home sweep of Miami University.
Lake Superior State — There was concern about LSSU after this summer as well, but the team has played really good hockey to start the year. Jim Roque is a really underrated coach and has been getting a lot out of his Lakers over the years. With weekend sweeps over typical CCHA powers Michigan State (at home) and Miami (on the road), the Lakers sit fourth in the league. LSSU's 9-3-2 record is a great way to start a season that's only going to get tougher from here on out.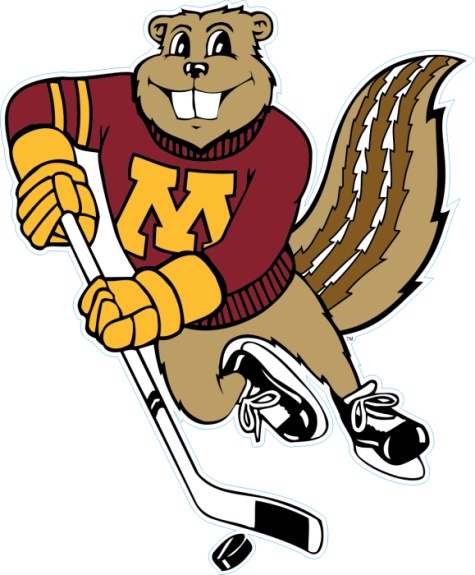 Minnesota — OK, this isn't necessarily a surprise, but how good have the Gophers been this year? It's been a few years since we've seen them at a level like this. After two weeks at No. 1, Minnesota slipped to No. 3 in the USCHO poll. Even so, the Gophers have posted a stellar 11-3-0 record with sweeps against Minnesota-Duluth and North Dakota. Despite splits over the last two weekends, the Gophers look to be back and back in a big way. Colorado draftee Kent Patterson has already set Minnesota's single-season shutouts record with SIX. Yeah… he has shutouts in almost half of his team's games so far. AREYOUFREAKINGKIDDINGME!? Florida first-rounder Nick Bjugstad looks like a man possessed. He's posted 13 goals (second in the nation) and he's tied for the national lead with 21 points. Meanwhile, Erik Haula is right behind him with 20 points and super freshman Kyle Rau isn't far back with 17 points. Also, defenseman Nate Schmidt has 16 points, second most nationally for blueliners. His 15 assists sit second in the nation overall. Are these guys just warming up? The rest of the nation better hope not.
North Dakota — North Dakota is on this list for all the wrong reasons. The Sioux lost a bunch of firepower from last year's club, but I don't think anyone saw this coming. North Dakota is tied for 10th place in the 12-team WCHA with a 2-6-0 conference record to go along with an ugly 4-7-1 record. Adding insult to injury, the Sioux have been swept by rivals Minnesota and Wisconsin already this year. Making matters worse, they've just lost freshman phenom Rocco Grimaldi (who's been hampered by injury all year) for the next 6-8 weeks. More on that in a bit…
Overall, there have been a lot of intriguing things happening in college hockey. Part of that may have to do with the ever-increasing parity. Save a few teams with tremendous records, everyone else has been pretty average. Typical powers like Boston University, Denver and Michigan haven't been exactly dominant. In fact, each has mostly been average. Perhaps that's good for college hockey. The fact that any team can win on any given night makes for some exciting match-ups. Expect this season to heat up even more, just in time for it's national debut on VERSUS (featuring two of the best teams in the country in BC and Notre Dame) on New Year's Eve.
—-
Top Freshman Injured
Rocco Grimaldi hasn't been himself all season. He's only played in four of North Dakota's 12 games after being hampered by a knee injury. As it turns out, the injury was more serious than anyone believed as he'll be held out six to eight weeks.
He hopes to avoid season-ending surgery, but there's no guarantee he'll be healed up at the end of this time off. If not, he isn't, he'll go under the knife.
While the injury is bad news for a struggling North Dakota team now without its prized recruit, it's also bad news for USA Hockey. The injury will keep Grimaldi out of the mix for the U.S. National Junior Team. There was no guarantee he'd make the 22-man roster, but you'd have to believe he was a strong candidate with his speed and immense skill.
That injury could open the door for players like T.J. Tynan or Kyle Rau, uber productive little guys that can play center or wing, just like Grimaldi. Tynan is tied for the national lead with 21 points this season for Notre Dame, while Rau has been impressive for Minnesota as mentioned above.
As for Grimaldi, this has to be a big disappointment. An injury during these crucial years of development can be tough, but Grimaldi's not the type to just go away quietly. This may end up being just a minor speed bump in his development. It's too bad it has to come at the expense of not one, but two teams.
—-
Eighth Grader Commits to Northeastern
Sunday, I caught this tweet from New England Hockey Journal's Kirk Luedeke:
@kluedeke29 Northeastern one-ups BC with C Cam Askew- an 8th grader @ St. Seb's and 5/97 birthdate committed to Huskies this week. 6-2 already. #southie
Cam Askew is a good hockey player. He's an eighth grader at St. Sebastian's and already 6-foot-2 as Kirk writes. That said, I've grown increasingly tired of early offers and early commitments in college hockey.
This is what the recruiting landscape has created for us. It is not isolated to NCAA hockey, as we've heard of eighth graders committing to Division I basketball programs as well. However, these huge life decisions being made by 13- or 14-year-old kids just doesn't feel right.
For Northeastern, a school that has two of the biggest college hockey programs in the nation right in its back yard has a tough time recruiting the very best of the local talent. So it's understandable as to why they want Askew. They want to be first. If they get in there before Jack Parker and Jerry York have a chance, maybe they keep the kid.
Maybe. There's a gentleman's agreement among college coaches that once a kid verbally commits to a school, everyone backs off. But that still doesn't mean a kid can't change his mind. Plus, as we've found out with young prospects that have made early commitments in the past like Brandon Shea and Adam Erne this summer, there's always the Q.
Jordan Schmaltz committed to the University of Wisconsin at age 14. When assistant Mark Osiecki left UW to become the head coach at Ohio State, Schmaltz changed his mind. Which, to be honest, is perfectly fine. How can you expect to feel the same way at 14 as you do at 16? When a situation changed, he changed his mind and then committed to North Dakota. Schmaltz still won't get to campus until next fall.
Jon Merrill committed to Michigan at age 14 and kept his word. As of right now, Merrill is serving a team-mandated suspension, but when he's been in the lineup, he's been terrific for the Wolverines.
I understand that sometimes it works. Those two guys are examples of players that were good at 14, better at 17. That won't always be the case. Change in physical maturity, personality and priorities is natural for a kid of that age. So there is some risk involved in getting an early commitment that early in a player's development curve.
Because of that, it seems like making a decision at 14, regardless of whether or not a player and his family feel ready, just doesn't seem like a good decision for either the school or the player.
I am a big believer in a player exploring his options and preaching patience when it comes to making a decision. Over the ages of 14-18, a hockey player goes through a series of changes, some positive, some negative. Sometimes, perhaps, it's just better to wait.
All that said, you can do nothing but hope it works out for the player and the school. It's a risky business making an early offer. We'll see if it was worth the gamble.
Expect the College Hockey Roundup to make a few more regular appearances on USofH upon the conclusion of the World Junior Championship. Things are just beginning to heat up in the NCAA rinks across the country. Should be fun to watch.